Screen printing is an economical way to have your own design on T-shirts, aprons, uniforms, jerseys, etc. when the quantity is large enough. Our minimum is 12 pieces.
Unlike embroidery, the size or content of the image is not directly related to the cost.
The screen printing charge is determined by the type of garment, quantity and the number of printing colors.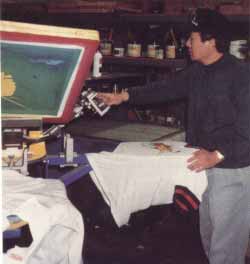 Clear, sharp artwork is critical for quality printing. In case of multi-color printing "color-separated" artwork is required.If it is a proprietary design you must provide the artwork. If not we can create a design for some charge.